Data Science is changing the way we interact with and explore our world. Because of the increasingly interconnected world, massive amounts of data are being generated and stored every instant. Data Science can be used to transform data into insights that help improve existing processes. Operating costs can be driven down dramatically by effectively incorporating the complex interrelationships in data like never before. This results in better quality assurance, higher product yield and more effective operations.
Data Science is the art of turning data into actions through creating data products. Performing Data Science requires extraction of timely, actionable information from diverse data sources to drive data products.
A few examples of data products include answers to questions such as:
- Which of my products should I advertise more heavily to increase profit?
- How can I improve my compliance program, while reducing costs?
- What class of people/customers should I focus on to increase my business?
- What will be demand of my product in next year/quarter/….?
- What manufacturing process change will allow me to build a better product?
The key to answering such questions is to understand the data you have and what the data inductively tells you. A critical step in Data Science is to identify an analytic technique that will produce the desired action. Data analytics includes statistical analysis and data mining.
Typically, a Data Scientist needs to have a diverse set of skills such as; domain expertise, computing knowledge, statistics, and machine learning.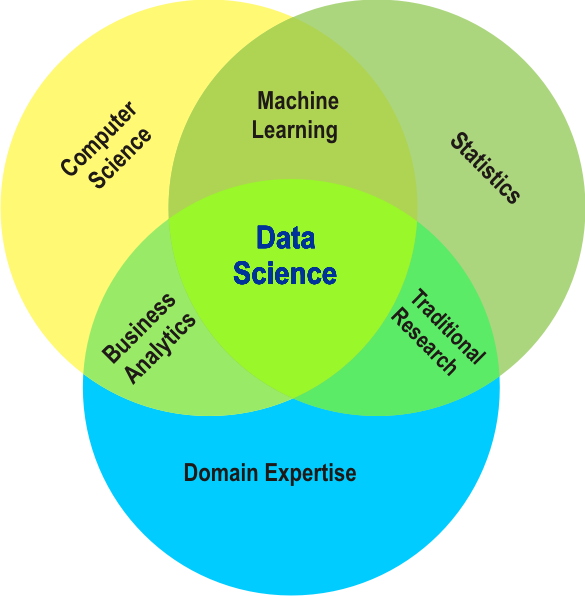 Domain expertise contributes to an understanding of business problems that need to be solved, identify and interpret types of data existing in specific domain, and how the problem space may be instrumented and measured.
Computing knowledge is necessary for data munging (parsing, scraping, and formatting data), processing, testing of data-driven hypotheses and visualization.
Statistical knowledge is important to understand the basis for machine learning algorithms, predictive modelling and relevant tools.
Machine Learning brings together computer science and statistics to harness that predictive power through detecting patterns in data and adjust actions accordingly. Machine Learning is an approach to achieve Artificial Intelligence (AI) that makes computers able to learn without being explicitly programmed and regulate actions when exposed to new data. Machine learning algorithms are categorized as being supervised or unsupervised. Supervised algorithms apply what has been learned in the past to new data. Unsupervised algorithms draw inferences from datasets.
This course caters an industry credential that has unprecedented challenges and opportunities - "Data Scientist" is one of the fastest-growing and highest paid jobs that has incredibly high demand.
By the end of this course, you'll be able to:
Understand Data Science process and Analytics Life Cycle.
Learn R programming, Advanced Excel and Scientific Python for Data Science.
Learn to work with different data formats through our data analytics training.
Learn tools and techniques for data transformation and visualization.
Understand Descriptive and Inferential Statistical Concepts & their application.
Understand Data Mining techniques and their implementation.
Understand various Machine Learning algorithms.
Learn statistical model building and optimization techniques.
Learn how to process data to arrive at a model and how the resulting model can be applied to new data.
Analyze data using Machine Learning algorithms in R and scientific Python.
Discover patterns from data, make predictions, and communicate business insights.
Big Data, Hadoop Ecosystem, Architecture and HDFS training
Learn SPARK Framework training
Understand role of a Data Scientist.
Unleash the power by deriving Value from Big Data.
Able to build Data products.
This is the most recommended course to start a career as a Data Scientist. Those who have constraints of investing required time duration for this course, may prefer our Data Science Foundation course.
Our Data Science Professional training course content is developed and taught by professional Data Scientists with extensive experience in their respective domains in leading multinational companies. Most of these professionals have completed their formal education from prestigious institutions like IIT and IIM and the like. In an attempt to provide a best data science training course, we review our curriculum frequently and keep updated all the time, to ensure you're learning what's most relevant to employers.
Our Data Science Professional training course provides practical foundation level Data Scientist training that enables immediate and effective participation in Big Data Analytics projects. This course provides grounding in basic and advanced data analytic methods, machine learning algorithms (supervised & unsupervised), statistical pattern recognition, predictive modelling techniques, tools, technology and analytics project lifecycle. Hands-on sessions with numerous case studies and applications using both R and Python programming, give you an in-depth understanding of how these methods and tools may be applied to real world business challenges that leverage Big Data by a practicing Data Scientist.
Harvard Business Review has named Data Scientist the "sexiest job of the 21st century". The need for "Data Scientists" today is in almost every industry. The job market is very lucrative for "Data Scientists" and is accelerating at an increasing pace.
Those who are looking for Data Science and Analytics training to launch a new career or transition to a Data Scientist role from current role, or just looking to use data to derive business insights in your current role, this course is right for you. At least a minimum understanding of programming and willingness to learn statistical concepts with mathematical aptitude are enough as pre-requisite to learn this course. So, those who are looking for data analytics courses like big data analytics training, predictive analytics, business analytics, machine learning course in Pune, may contact us to discuss and appraise their career roadmap.
Past students who have taken this course include Business & Marketing Analysts, Sales professionals, Software Engineers, Graduate students, Researchers, Business Analysts, Data Analysts, Data warehouse experts, Database professionals, BI/Big Data professionals, ETL Developers, Statisticians, SAS/SPSS Professionals, Project Managers, Delivery Managers etc.
Earn a certificate of completion at end of the course. Get our support for preparation of any external data analytics certification or data scientist certification, data science certification, big data certifications.